Tour 1: From

Almaty

to Grigorievka on lake Issyl-Kul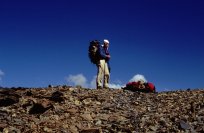 24.7.
Without the help of a tourist company and only a group of two men we arrive at Almaty at 9.10 am. Our first taxi costs us just 30$ and we buy maps, Kazakh and Kyrgyz money, a rope and petrol for our cooker. We understand that the driver doesnít mind driving through the townís potholes but is worried going uphill with his 'weak' Russian LADA.
So we are on our first murderous tour on a steep way up along the water supplies.
Soon we have to hide from the first thunders in a small building. Mike advises me to keep the feet together and kneel down so we are less in danger.
20 kg backpack arenít easy to get used to. We pass lake Almatinska and 5km further on after meeting a Kazakh couple we join a camp with a Slovenian group that we shall meet later again.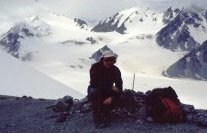 25.7.
In the morning the Kazakh girl plays the mouth drum; they are going to climb a mountain. Soon we have wet feet crossing the first deeper river. Soon after we put up our tent we donít have to be wet. We arrive in Kyrgystan crossing the Osorny pass. At night we have delicious suebian cheese noodles.
26.7.
After half an hour Michael backpack begins to wear out but he manages to mend it with needle and thread. When the first torrential river comes up and it starts raining we stop. An uneasy night with nightmares of falling with all the belongings in the water. I recall all the tips how to handle a rough river.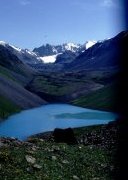 27.7.
However, in the morning the river has calmed down and the crossing is fairly easy. Fortunately I change the slightly wet socks, Michael will turn out to have blisters for a fortnight. We follow the river up past a moraine where a breathtaking lake comes up. Then back and up the river Ak Suu until we find prepared camping lots.
28.7.
After an uneasy night we start early in the morning. Full program: Steep climbing, glacier and river crossing.
The weather is cloudy and fairly good. Soon we are on the Ak Suu glacier with our crampons on as the ice is slippery. Soon I feel week in the stomach from having no breakfast and walking too fast in these heights what I try to overcome with having a few mouthfuls of our good muesli.
We donít have to cross crevices but we fell better after crossing the river in the glacier and start climbing uphill up to 4000m. This will take almost two hours then we are on top of the mountain where we have a beautiful panorama.
We still have to go down quite a way and join the Slovenian camp. Everybody is quite exhausted and temperature is not very high on 3000m. Excitement comes up when our gas cooker has to be cleaned and the parts arenít easily put back. Finally the clean cooker gives high flames which attract the guides of the Slovenian group and we exchange tips and opinions.
29.7.
We get up late when the rain calms down. We want to keep with the group to avoid troubles and cross the river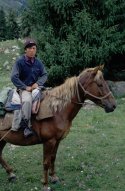 we getting wet feet, the group crossing on horses. Soon we meet the first 'dangerous' Kyrgyz rider. He brings us kefir from the other riverside. We give presents in exchange among them a cigarillo from Germany.
After a short rest we encounter two more frightening Kyrgyz horsemen which we try to appease with more cigarillos. More frightening still is being invited to their tent and seeing some intestines boil on the stove. Michael canít await the rain to stop and get away from this delicious meal.
We finish the day in a bigger camp where we meet mushroom collectors and other disturbingly curious Kyrgyz people (see below).
A day of rest with mushroom meals.
At the left you see a curious family.



31.7.
Long march to Grigorievka on lake Issyl-Kul, about 100km from Karakol where we find a dry roof for just 4$ a night.