| | |
| --- | --- |
| Tour 3: Back from lake Issyl-Kul to Kasakhstan | |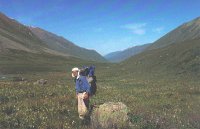 20. 8.




From Tschon -Sari-On near Cholpon-Ata we start after having a beer and talking to Americans into the night, so we just get to the first river that night.

21. 8.
Next morning we cross the river and wondering how to get up the mountain a tractor stops to take us up to the pass. The nuisance is to take care of the luggage so it doesn't fall in the diesel oil that is flowing about from the tanks on the back of the truck not anymore worrying about the little water flowing downhill. On the top we get a good soup. And after recovering from mountain dizzyness (we have after all "climbed" more than two thousand metres to nearly 4000 above sea level, we climb down first on the rod later along the river to a quiet place where we rest.

22. 8.
We tested our sleeping bags and the night was not too bad. We are busy washing clothes and playing chess.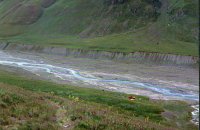 23. 8
We continue walking down the valley till we come across another valley which is rather hot and we find a place behind the hut to rest in the shade. We came across a huge moraine which sucks all our energy and going downhill it is'nt for Mike without wounds.
24. 8.
The next day we hope for the bridge which is supposed to be quite stable according to the book, but half of it is gone. So we keep on walking crossing one river and stopping at the next which is rather rough. We argue whether to go back or wait but we decide on waiting the next day.
25. 8.
Getting up very early we actually manage not only to cross the first river but also to cross the main river at a wide part which has been worrying us. We couldn't believe it at first.
We met a Kasakh group of young people going over to Kyrgistan one of whome we were going to meet later. Going uphill thunder storms are coming up and eventually we set up our tent to protect us.
26.8.
We only get away at 11 am and so don't get too far as the thunder storms come up after 1 am where we could have gone up to the next glacier.
27.8.
We decide to go down straight away. We see the black sky in the back. We pass Almatinska lake where there is no place to rest. We go down the steep way along the water supplies and finally cover in an old derelict house. There is not much rain so we go along the road two hours to the first beer and the bus station.