| | |
| --- | --- |
| Tour 2: South of lake Issyl-Kul ( MAP ) | |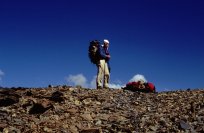 4.8.
Important conditions for this second tour are met: Our visa is now officially stamped and a Suisse working locally has given us a map of the region south of Issyl-Kul - and last but not least: we don't need a permit for the tour over the pass where a dirt road now leads to. We had been misled by the official tourist information about the difficulties but had soon got appropriate information by a Russian tourist agent we met.
The first thing to do is reach the central bus station where we first had to find a bus. So first the taxi drivers get at us but Mike finds the buses at the rear and it will cost us just 1$ each for just over 100 km.
We get seated at the rear where we notice that our approximately 40 year old bus has'nt any suspenses any more. More surprises are to come: At a bus station on a sharp bend a tyre explodes with a big bang. The burst tyre is replaced by an even older slick tyre.
We are dropped right on the mouth of a river. After testing the salt of lake Issyl-Kul we start our march along the river. It is afternoon and quite hot. An unfriendly old bastard would have taken us up on his cart if we had parted with some of our nice dollars!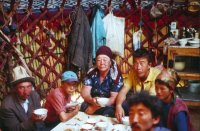 At the end of the day we get a friendly invitation to a yurt. The youngest daughter-in-law is in charge of the tee ceremony and hand out the half filled cups. We sleep at the back outside on the straw.
5.8.
In the morning we had a photo session with lots of small turkeys running about. We had beautiful bread and ayran for breakfast. After that we headed for the pass on a newly built dirt road. It got quite hot, but fortunately there were always some cool rivers for refreshing ourselves. At night we tested our sleeping bags after having a beautiful Ritzibitzi rice meal from the bag.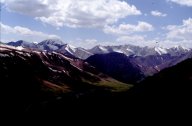 6.8
The pass is easy to manage and I enjoy one of our kyrgyz cigarets. Mike heads straight towards a yurt, where he finally got what he disliked: Kumys.
After that we didn't get very far. What is the good of having wet feet in a bad weather?
7.8.
We cross quite easily where the river got wider . And now further up the way Mike manages to lead us up his own pass where we have to climb harder and higher up than the proper way. I am quite glad on the top to see that now everything is quite even.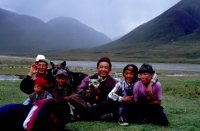 8.8. It is sunday, what we will notice soon. I am not so interested today in marching so a group of yurts come in handy. They have gathered across a smaller river. The crowd is already quite happy filled up with Vodka. They invite us in their yurt and we have a good meal with drinks.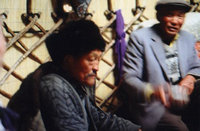 The chief looks quite interesting.
After that we are shown around and they explain how deep the river is. Soon the party is ended when rain comes up and everybody goes home.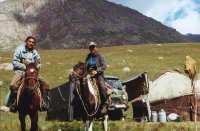 9.10. Though there is a bridge we continue along the river to shorten the way back. We come into rainy weather but anyhow we are surprised to find very friendly young men which invite us to their home in a yurt and have us cross on horses back across the river.

10.10. We cross the pass and come to a very lonely lake as we left the main trail.
11.8. We have a quiet day just climbing a mountain to have a good view.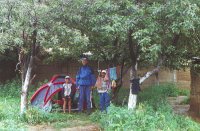 12.8. With luck we manage to find a driver on a snowy day to take us down to the lake. A steep pass road takes us down.
We manage to find a garden to put up our tent.